Mended Hearts Quilting & Boutique Spotlight



Holiday Hours
Mended Hearts is closed on the following holidays:
Memorial Day, July 4th, Labor Day, Thanksgiving Day and December 23rd through January 2nd.



Join us on an adventure in Iowa, South Dakota and Minnesota to visit seven unique quilt shops while enjoying a beautiful fall view. Bring a friend and sign up today! Price includes meals, hotel and transportation.
Shops participating :
Cut Up & Quilt! Council Bluffs, Iowa
Heart & Hand Dry Goods Company Sioux City, Iowa
Always Your Design Dell Rapids, South Dakota
Sewing Seeds Quilt Company New Ulm, Minnesota
Calico Hutch Quilt Shop Hayward, Minnesota
Piece Works Quilt Shop Winterset, Iowa
Mended Hearts Quilting & Boutique Ellsworth, Iowa
Sign up today at www.mendedheartsquilting.com/classes


Janome Quilt Maker Pro Event
Save the Dates: September 25 & 26
2 days with seminars by Susan Enderson, Janome National Educator

Susan is not your average instructor. Her extensive experience includes managing a number of dealerships and instructing consumers and dealers in the home industry since 1985.
She is a professional digitizer, quilter, crafter and seamstress specializing in Machine arts. Susan has also authored many articles for different sewing industry magazines and newsletters as well as having published her own designs and patterns. Susan is an avid Longarm quilting professional as well
Susan's secret passion is anything Artistic. Being certified by many industry professionals such as Sulky, Martha Pullen, Nancy Zieman and Jenny Haskins in their different styles and sewing techniques - she brings a unique approach to her sewing, crafting and teaching.
From sergers to software, designing for the home to 18" dolls, Susan is able to inspire and motivate from the very beginner to the advanced professional in the industry.
Sharing the Weight
Sew days for Share the Weight will begin again in March 2019. If you would like to join the fun please contact Jennifer Buttolph to sign up. 515-460-2787.


MHQ will be hosting one volunteer sew day each month to sew weighted blankets for children and adults on the autism spectrum. Please see the website
Sharing the Weight
for more information on this organization. You can visit the calendar page of MHQ to see details of the next sew day.
Instructions for making weighted blankets. Please click on HOW TO MAKE A WEIGHTED BLANKET to open a page of detailed instructions. Use the following chart to plan your blankets.
3 pound blankets take 30″ X 40″ fabric with 5 columns and 7 rows.
5 pound blankets take 40″ X 50″ fabric with 7 columns and 9 rows.
7 pound blankets take 40″ X 60″ fabric with 7 columns and 11 rows.
10 pound blankets take 40″ X 72″ fabric with 8 columns and 13 rows.
---
2016 Row by Row Pattern
There is a missing step from the directions for the BARN panel portion of the Row by Row Kits. When cutting the squares from the barn board fabric,
they need to be cut on the bias, so that the boards run from corner to corner.
See Illustrations below. Then follow the instructions as printed on the pattern.
When your half square triangles are finished they need to be trimmed to 2 1/2″ and 3 1/2″ respectively.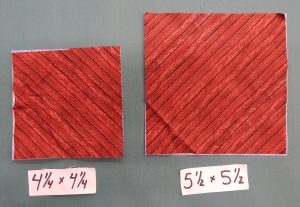 Board design runs from corner to corner.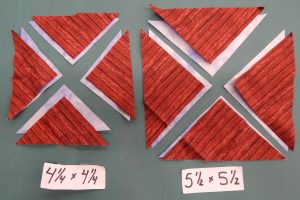 Cut diagonally from corner to corner , then sew long sides
You will end up with two sets of HST. Trim the squares to 2 1/2″
Trim the squares to 3 1/2″